About
I, Scott Johni, have been the victim of another's carelessness. In 1986, I was traveling home from work one evening when a reckless driver struck the left front quarter panel of the driver's side of my car, forcing me off the road. My car was propelled into a telephone pole nearly cutting my vehicle in half just behind the drivers seat.
I suffered a broken neck (C-2 fracture) and, as a result, had to have my C1-C4 vertebrae fused and my neck wired back together. This collision caused me to be temporarily paralyzed. My right lung collapsed, ligaments were torn in my right leg, and I had two tracheotomies. My medical bills were over $100,000.00.
Unfortunately, the driver who hit me not only did not have any insurance, but also had multiple prior driving violations on his driving record.
After the collision, I underwent extensive physical therapy and was told I was very lucky to be alive. I realized at that point in my life what type of law I wanted to practice — personal injury. That desire became my law practice, Law Office of Scott Johni, P.A., now known to many as "Johnilaw."
I only represent the victims of others' negligence.
As fate would have it, while going to work one morning in September of 1997 I was sitting in line behind multiple cars waiting for a red light to change when i was rear-ended by a van. Again, the driver had no insurance.
Fortunately, I had uninsured motorists coverage (UM/UIM). This collision caused additional injuries to my neck requiring surgical intervention; I had my C5-C7 vertebrae fused and a plate with pedicle screws placed in my neck for stability. Due to these injuries, I have even less range-of-motion in my neck.
My dedication comes from surviving two automobile collisions. Those collisions changed my life and provided me with the desire and dedication to help victims of other's carelessness.
At JohniLaw, if we accept your case, we will work hard for YOU.
One of the most consistent complaints about attorneys today is that clients feel they cannot reach their attorney and they are not kept aware of what is happening with their case. I pride myself on my firm's customer service. We are committed to keeping the client informed throughout the claim process. My experience comes from years of practice, years of continuing education, and employing knowledgeable and experienced staff members. Your individual claim will be assigned to a team working on your behalf, consisting of a paralegal, a legal assistant, and me — your attorney. Together, we work hard to develop your case and resolve your claim.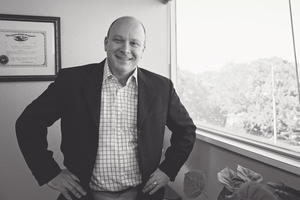 The Law Office of Scott Johni, P.A., is selective in the cases we take. We accept clients who have been injured from another's negligence. We strive to provide personalized service. We will work hard for you. You, too, should be selective. Choosing an attorney to represent you is an important decision; your choice should be an educated one! Johnilaw is large enough to handle complex cases, but small enough to provide personalized service to each client. We pride ourselves on our personal attention to your case.
Scott Johni is a sole practitioner based in St. Petersburg. Mr. Johni's primary area of practice is complex personal injury litigation. Mr. Johni received his Juris Doctor from Western New England College School of Law in 1993, where he was a member of Phi Alpha Delta Law Fraternity. He is a proud graduate of Eckerd College in St. Petersburg, Florida, Class of 1989, where he received his Bachelor of Arts degree in Political Science.
Admitted to:
Supreme Court of the State of Florida
United States Court of Federal Claims
United States Court of Appeals
Professional Association:
Tampa Bay Trial Lawyers Association (TBTLA) – President, President-Elect, Treasurer, and Director
Florida Justice Association f/k/a The Academy of Florida Trial Lawyers (AFTL) - Board of Directors and Executive Committee Member; Gold Eagle Recipient
Florida Lawyer Action Group – Leadership Award and Vanguard Award
American Bar Association
Academy of Trial Lawyers of America
St. Petersburg Bar Association
Speaker at:
2002 AFTL Auto Negligence Seminar, Tampa
2003 AFTL Auto Negligence Seminar, Tampa
2003 AFTL Insurance Bad Faith Seminar, Fort Lauderdale
2006 AFTL Workhorse Seminar, Orlando
2007 AFTL Workhorse Seminar, Orlando
Miscellaneous:
Member of The Million Dollar Advocates Forum
Listed in the Strathmore's Who's Who Millennium Edition
Named by peers status: Florida Legal Elite